Institute of Technology Annual Open House Exhibit Competition – 1956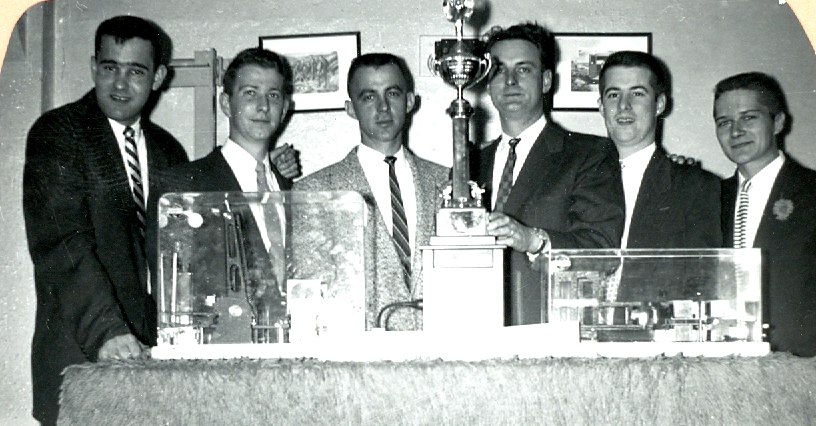 Photo Caption: Left to Right: Dick Schneider (deceased),(unknown) Gil Bollinger, Jim Bailey, Tom McEvilly (deceased) and Bob Reilly. Their exhibit was titled, "Structural and Ground Vibrations." It featured a number of spring-mass systems and instruments to explain the measurement of ground vibrations and building responses to it. Both Gil Bollinger and Tom McEvilly returned to receive PhD degrees in Geophysics in the 1960's.
On the last day of the Open House, a team of judges, selected by the University administration, toured the exhibits. They listened to the presentations and selected a winner and runner-up. During this period, the top two competitors were Electrical Engineering and Geophysical Engineering as they routinely finished first and second. In 1955 and 1956, the Geophysical Engineering exhibits were selected as the best. The 1956 team members, the winner's trophy, and a couple of exhibit items are shown in the photo above.
In the 1950s, SLU's Institute of Technology (IT) was a thriving College of Engineering. It had multiple, fully-accredited engineering majors, a superb faculty, and 400 - 500 students. IT's graduates were highly sought by industry and multiple job offers were the rule. Geophysics was present as Geophysical Engineering.
An annual event was a public Open House at the College's Olive Street building. It was held for a three-day period over St. Patrick's Day each year as he was touted to be the patron saint of engineers. Exhibits were prepared by each of the major's curricular clubs; they were presented to visitors by student members. The public tour consisted of going through the classrooms and labs and viewing these exhibits to hear the student presentations. It was quite a nice tour that covered IT's spaces and facilities and featured the students and their educational progress.

	Gil Bollinger
	Buffalo, Wyoming
	July 2011