2009 Winter Weather Workshop
Sponsored by the National Weather Service and Saint Louis University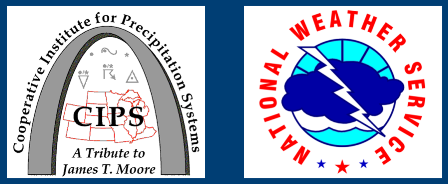 The National Weather Service and Saint Louis University would like to thank the workshop attendees for making this edition of the Winter Weather Workshop a rousing sucess. For the purpose of saving space on our system and ensuring that you receive all the appropriate files and animations for each presentation, all presentations and their associated files are compressed into individual zip files. If you would like all the presentations in one large, compressed file, scroll to the bottom of this page. Also, to contact the speaker via email please send inquiries to Mark Britt at the St. Louis National Weather Service Office.
We do ask that if you use any of the information within these presentations for purposes other than personal benefit, please reference the appropriate agency and/or university. Thank you for your cooperation.
Where to Find Winter Weather Model Guidance on the Internet -- Jim Sieveking, NOAA/NWS St. Louis
[zip]
The Cooperative Institute for Precipitation Systems' Analog Snowfall Guidance -- Chad Gravelle, SLU
[zip]
A Composite Study of St. Louis Heavy Snowfall -- Dr. Charles Graves, SLU
[zip]
A Review of the January 28-29, 2009 Winter Storm -- Fred Glass, NOAA/NWS St. Louis
[zip]
Using Model Output Statistics (MOS) During The Winter -- Scott Truett, NOAA/NWS St. Louis
[zip]
The Local Version of the Weather Research and Forecasting (WRF) Model -- Doug Tilly, NOAA/NWS St. Louis
[zip]
A Review of the December 27, 2008 Severe Weather and Flooding Event -- Ron Pryzyblinski, NOAA/NWS St. Louis
[zip]
The New Bulleted Format of Winter Storm and Non-Precipitation Products -- Jim Kramper, NOAA/NWS St. Louis
[zip]
All presentations and their associated animations can be downloaded in one large (approx. 75 MB), compressed file by clicking
here
.