2007 Severe Weather Workshop
Sponsored by the National Weather Service and Saint Louis University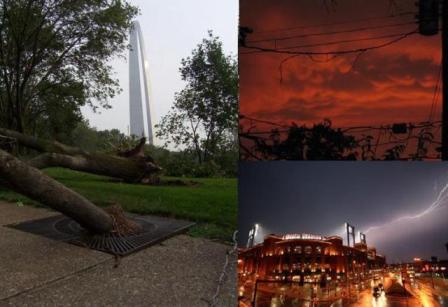 Photos Courtesy of KMOV-4 and St. Louis Post-Dispatch
The National Weather Service and Saint Louis University would like to thank the workshop attendees for making this session one of the most productive thus far. The open discussion scheduled during lunch was such a hit and extremely informative that the time just flew by. It might be necessary to extend this period at future workshops. We are very pleased to hear that the preliminary thoughts of this workshop are extremely positive.
For the purpose of saving space on our system and ensuring you, the recipient, receive all the appropriate files and animations for each presentation, all presentations and their associated files are compressed into individual zip files. If you would like all the presentations in one large, compressed file, scroll to the bottom of this page. Also, to contact the speaker via email please send inquiries to Mark Britt at the St. Louis National Weather Service Office.
We do ask that if you use any of the information within these presentations for other purposes than personal benefit, please reference the appropriate agency and/or university. Thank You for your cooperation.
Brief Overview of Storm Survey Operations / Paris, Missouri, Tornadic Event Survey - Scott Truett (NWS)
[zip]
Enhanced Fujita (EF) Tornado Rating Scale - Jim Kramper (NWS)
[zip]
Analysis of the 2 April 2006 Quasi-Linear Convective System (QLCS) over the Mid-Mississippi Valley Region: Storm Structure and Evolution from WSR-88D Data - Ron Przybylinski (NWS)
[zip]
National Weather Service Webpage Products - Eric Lenning (NWS)
[zip]
19 July 2006 Derecho: A Meteorological Perspective - Ron Przybylinski (NWS)
[zip]
July 19th and 21st 2006: NWS St. Louis Operations - Jim Sieveking (NWS)
[zip]
Warngen Overview and Pathcast Considerations - Scott Truett (NWS)
[zip]
Services Update - Jim Kramper (NWS)
[zip]
Aspects of the March 11, 2006 Severe Weather Outbreak - Fred Glass (NWS)
[zip]
Flash Flooding - Dr. Charles Graves (SLU)
[zip]
The Extended Severe Weather Outbreak of March 11-13th 2006 - Mark Britt (NWS)
[zip]
The September 22, 2006 Tornado Outbreak - Fred Glass (NWS)
[zip]
All presentations and their associated animations can be downloaded in one large (approx. 200 MB), compressed file by clicking
here.